Congress 2020
In view of the developments of the Corona crisis and in keeping with the main topic "Prevention in the Digital World – Smart Prevention", the 25th German Prevention Congress will not be held on site in Kassel, but will be digital and interactive.
The 25th DPT-Digital on 28/29 September 2020 will consist of four areas:
Unfortunately, there will be no specific Annual International Forum (AIF) this year with the digital congress. Most parts of the digital programme are in German language. Translation into english language will be available for the following sections:
DPT-TV programme in English:
(Livestream available on this website and on youtube)
On 28.9. from 11:00 am to 1:00 pm (CET) the congress opening and the panel discussion on the topic "smart prevention"
On 29.9. from 2:10 pm to 4:15 pm (CET) the demonstration of a "live-hack" and the closing event
The simultaneous translation will be provided via GoToMeeting. To hear the translation please use this link parallel to the livestream: https://www.gotomeet.me/DPT-Team/english-translation and click on the blue button to join. Please leave your own sound and video switched off after entering the meeting room.
DPT-Infopool in English:
Connected to the lectures originally planned for the International Forum in Kassel, numerous information materials have been posted to the DPT-Infopool, which are already available online.
---
The thematic focus is "Smart Prevention – Prevention in the Digital World". Please see the Congress expertise with the views of 17 experts on this topic in English language.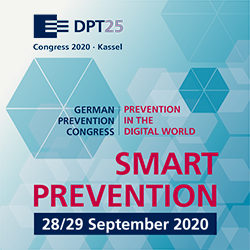 Background: The digital revolution is fundamentally changing our everyday lives and the way people live together. Direct effects on the prevention of violence and crime are obvious. New phenomena are emerging that require new answers. Established responses – from the criminal law classification to the appropriate prevention strategy – are not (yet) available at many points. Much remains open, which leads to uncertainties and fears. On the other hand there are various new opportunities that need to be identified and exploited. Thus, the 25. German Prevention Congress will devote itself to the prevention in the digital world in order to approach a vision of a "smart prevention".